< All projects
2023
FISTS TO FLOWERS
Alex Preobrajenski
Alex Preobrajenski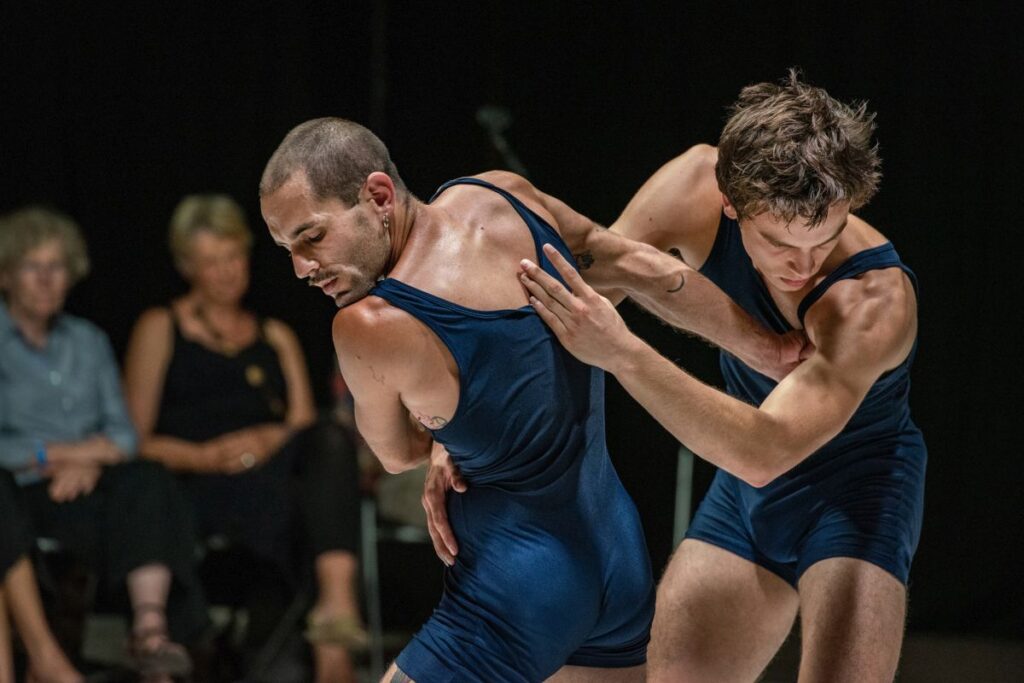 Alex Preobrajenski
Alex Preobrajenski
Alex Preobrajenski
A multidisciplinary performance deconstructing and weaving together practices originating from contemporary dance and martial arts. The four protagonists of FISTS TO FLOWERS journey through resistance and complete surrender. 
Opposing forces wish to conquer one another, yet through the continuous collision they crumble and melt, giving space to intuitive exploration and vulnerability. the encounters of their bodies receive new meanings – holding can be done with care, a flip or a throw can become a game of two animals. The physical relations between the performers shift between attachment and detachment – as they weave themselves in knots and let go. Rhythmical, highly physical sequences emerge and eventually bring them to exhaustion and catharsis. 
By deconstructing the language of fighting techniques such as wrestling, boxing, grappling, we transform the arena into a space which can be sensitive, intimate, playful. 
The design of the space is a contemporary adaptation of a boxing ring. A white rectangle, simple bright lights, an audience surrounding the arena in 360 degrees. On stage is a single microphone – a space for confessions used by the performers. The spectators are at such proximity to the performers, that they can hear them breathing, smell their sweat, experience the risk and tension in the space. The audience contains and channels the energy much like a boxing match or a sports event, and cannot disappear during the performance. Within the span of the performance, the boxing ring transforms into a dancefloor, inviting the artists to shed layers of tension and protection, and experience vulnerability, pleasure and sensuality. 
Concept, Choreography & Performance: Yotam Peled
Collaborating Performers: Erin O'Reilly, Andrius Nekrasovas, Nicolas Knipping
Light Design: Hanna Kritten Tangsoo
Documentation: Valentin Braun
Production Management: Sofia Fantuzzi
Communication & Distribution: Laia Monyota / TINA agency
FISTS TO FLOWERS is a production of Yotam Peled & the Free Radicals in co-production with LOFFT – DAS THEATER. Gefördert von der Stadt Leipzig, Kulturamt.
The project is supported by Fonds Darstellende Künste with funds from the Federal Government Commissioner for Culture and the Media, DOCK11 and TheaterHaus Mitte Berlin. 
Research in 2022 was supported by Tanzhaus Zürich, Schloss Bröllin, and tanz-kultur-dialog Rosenhof.